Hodges Horses proudly introduces Bet On Miss Okie to our farm. She is a beautiful
red roan daughter of Bet Hesa Cat. Her sire, Bet Hesa Cat, has a LTE of $272,000 and
his offspring earnings are over $2.5 million. His foals averaged $10,488 in the sale ring
in 2018. His dam, Bet Yer Blue Boon, has produced offspring earnings in excess of
$1.1 million. Bet On Miss Okie's dam is sired by Blue Duck Okie, LTE $149,000.
Bet On Miss Okie's pedigree is fully loaded with money earners and money producers.
Add to that her perfect confirmation, beautiful color, and her athletic ability, we think she
will be a top producer herself. Look for her first foal on our site in 2020.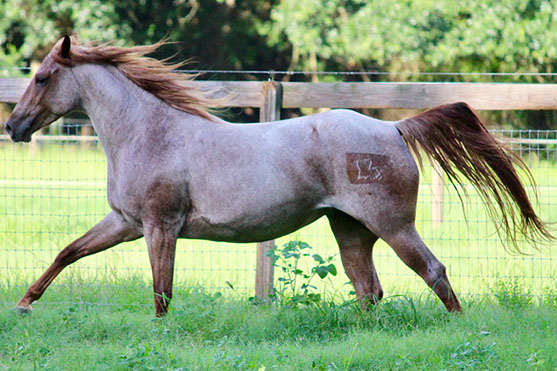 See what others are saying about Hodges Horses
Kirsteen Haley-Nettles says:
"I have three from the Hodges and I know mine are going far in reining and whatever discipline I choose ! They breed for good minds and athleticism ! They stand behind there horses 100% because they love them as family and want to find the right homes for there babies . I can't say enough about them ! I love them and everything that comes from them , just wish I had lottery money to quit working and buy what they to show it full time and show the world. Annette Johnson Hodges , pep is on her way for you and chi chi is right behind her . Will McLain is helping us now so you will see some of your babies become champions ! I feel it in my soul"