Frambuesa is a beautiful red roan mare with a lot of chrome. To go along with her red roan color she has four white stockings and a blaze. Frambuesa's sire, Mr. Peppys Freckles, has sired offspring with earnings over $500,000. Quite The Fat Cat ($237,543) and Lannies Freckles ($97,237) are just two of his many money earning offspring. Mr. Peppys Freckles dam, Peppys From Heaven, is a full sister to the legendary Peptoboonsmal and his sire is Freckles Playboy.
Frambuesa's dam, Meradas Boonsmal, is also a producing mare. Her foals include Royal Blue Mecom ($26,100) and Spooked Blue ($28,658).
Frambuesa is a great horse. If you are looking for a mare with class and flash, she may be the one for you.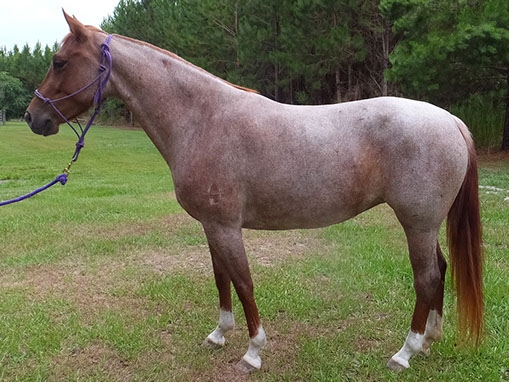 See what others are saying about Hodges Horses
Kirsteen Haley-Nettles says:
"I have three from the Hodges and I know mine are going far in reining and whatever discipline I choose ! They breed for good minds and athleticism ! They stand behind there horses 100% because they love them as family and want to find the right homes for there babies . I can't say enough about them ! I love them and everything that comes from them , just wish I had lottery money to quit working and buy what they to show it full time and show the world. Annette Johnson Hodges , pep is on her way for you and chi chi is right behind her . Will McLain is helping us now so you will see some of your babies become champions ! I feel it in my soul"