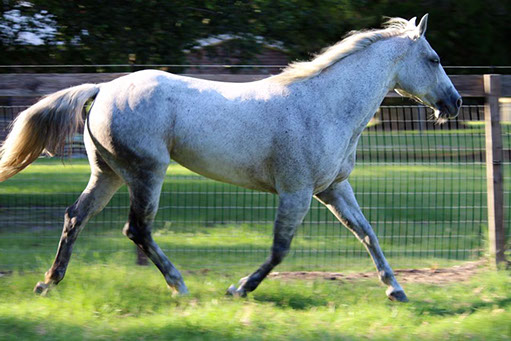 Hodges Horses is excited to introduce another great mare to our farm. Playfool is one of those highly sought after gray daughters of the legendary Playgun. Playgun's success in the show pen spanned six years with 21 aged event champions and reserve championships and more than $186,000 in earnings. Playgun's offspring continue to impact many disciplines with earnings in excess of $9 million to date and is the sire of over 200 aged event champions. A few of his champion offspring include: Mr. Beaman - $322,810, Peppy Plays For Cash - $304,942, PRF Playguns Pep - $283,785, and Straightshot Playgun -$253,196. Playgun died in 2015 but his lineage will continue through our beautiful mare, Playfool.
Playfool's dam, All That Trouble, is a NCHA money earner who is sired by Smart And Trouble. Smart And Trouble has offspring which have accumulated earnings of over $1,385,000. Smart and Trouble's sire is one of the industry's all time legendary sires, Smart Little Lena.
Playfool's offspring will carry the lineage of some of the industry's greats, i.e. Playgun, Freckles Playboy, Docs Hickory, Smart Little Lena, Doc's Oak, Miss Silver Pistol, Gay Jay, Smart and Trouble all in their bloodlines.
When you combine Playfool's pedigree, color, disposition, and conformation, you would be hard-pressed to find a better mare than Playfool.
See what others are saying about Hodges Horses
Kirsteen Haley-Nettles says:
"I have three from the Hodges and I know mine are going far in reining and whatever discipline I choose ! They breed for good minds and athleticism ! They stand behind there horses 100% because they love them as family and want to find the right homes for there babies . I can't say enough about them ! I love them and everything that comes from them , just wish I had lottery money to quit working and buy what they to show it full time and show the world. Annette Johnson Hodges , pep is on her way for you and chi chi is right behind her . Will McLain is helping us now so you will see some of your babies become champions ! I feel it in my soul"